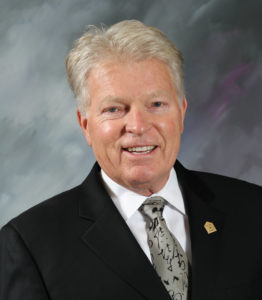 True North Hotel Group CEO: Veterans Need Our Support
*This story originally appeared on www.atourfranchise.org, a website highlighting the positive impact of franchising on communities around the country.
Giving back to the community and helping military veterans is more than just an initiative for Lew Wiens — it's a personal mission. IFA's @OurFranchise highlights franchises that are making a difference in honor of Veteran's Day on Friday, Nov. 11.
By Andrew Parker
True North Hotel Group Chairman and CEO Lewis "Lew" Wiens has transitioned from a military background with 21 years of service in the U.S. Naval Reserve, including more than four years of active service, to becoming head of a successful hotel franchise chain with close to 30 properties and 800 employees. While his life is firmly entrenched in franchising these days, Wiens hasn't forgotten his roots as a former destroyer supply officer in Vietnam, instead turning his love for country into a large-scale effort to give back to his local community and help veterans and those in need find jobs and support.
The "Give Back" portion of True North's website reads like a who's who of charitable organizations that the company supports, with more than 60 charities listed, a testament to Wiens' commitment to community service. A member of the National Board of Directors of Wounded Warriors Family Support, Wiens also serves local and international community projects, including as a member of city and country commissions, recently serving on the Board of Directors for Cross-Lines in Kansas City, Kan. and travelling to Romania with the Medical Missions Organization, helping doctors and nurses treat orphans and destitute children. His service also extends within the Marriott network as a past president of two different Marriott Franchise Owners councils.
High Five Tour
Wiens felt honored being asked to become a director a Wounded Warriors Family Support. Once on the board, he focused on one of the organization's fundraising projects known as the "High Five Tour," which involved a Ford-sponsored Mustang driving around the country to thank military families for the sacrifices they make, as an initiative for True North to embrace. The tour represents "a very meaningful opportunity to bring elements of lifestyle normalcy back to families of severely wounded U.S. servicemen," Wiens explained. Each stop featured a fundraiser where sponsors could sign the car. "True North Hotel Group partnered with Marriott's Omaha Reservation Center to secure all the rooms [for High Five Tour drivers] and paid for them with gift cards supplied by Marriott," he said. "This year's vehicle tour, a joint venture with the Purple Heart Association, made a stop, as it has every year, at Marriott headquarters" in Bethesda, Md., Wiens added.
Others in the True North Hotel Group family have embraced the project. "As a wounded Vietnam veteran, I know first-hand how important it is to feel supported when you're trying to heal not just your body, but your spirit, while you're trying to find your place back in the community," said Tim Adams, Chief Engineer of Fairfield Inn & Suites in Leavenworth, Kan. The hotel's General Manager, Michael Watson, added that programs like the High Five Tour "are essential reminders that freedom is not free."
Zach Light, a Guest Service Representative at the same Leavenworth location, comes from a military family. Last year's High Five Tour gave Light a chance to add a personal touch. "It was not only an enjoyable experience, but a heartwarming one as well, because I was able to write my recently deceased father's name on last year's car. He served many years as a Navy Seabee," Light said. The Seabees is a nickname for the U.S. Naval Construction Battalions.
Dan Gudenkauf, General Manager of Residence Inn in Country Club Plaza, Kan., said that the impacts from the High Five Tour have spread throughout his team, and guests get involved as well. "A veteran who was staying with us for over six months, while going through combat-related injury rehab, happened to be a guest during our tour reception. We surprised him by adding his name to our tour welcome banner and by having him be the first person to sign the star on the car's Purple Heart logo. We were all in tears."
Marriott and Franchising
Wiens has also been integral to Marriott's franchising operations. He served on The Residence Inn Association (TRIA) Board of Directors for 16 years, and Marriott asked Wiens to help found and lead the Franchise Advisory Council for its SpringHill Suites brand. He served as President of that group for 12 years and is still a member of its Board of Directors. He reflected on what it was like to launch TRIA as Marriott waded into franchising.
"For Marriott, this venture into franchising was their first," he explained, adding that he heard rumors that the head of another large hotel chain commented to Marriott's leadership that franchisees were a "pain in the neck." That left the TRIA board and Marriott executives very cautious heading into discussions. "When the purchase transaction closed, there were more company-owned hotels than franchised hotels, maybe 55 percent to 45 percent, causing the board to feel like we were a minority and our voices would not be heard."
However, that's not how things turned out. Even with an adjustment period, Wiens said, "I was subsequently surprised by Marriott's fair treatment and that they really were listening to our concerns." Fast forward to the early 1990s and with a real estate downturn, Marriott started looking at other options, including owning very few corporate hotels. "Suddenly, franchising was the growth future of Marriott and franchisees owning the real estate was a safe growth strategy," he recalls.
True North Hotel Group's origins trace back to 1985, when Wiens and Mike Dubroff met as two of the first franchisees of what is now known as Residence Inn by Marriott, which was founded in 1975 by Jack DeBoer and Robert Brock and acquired by Marriott in 1987. Wiens and Dubroff founded True North in 1998, and have grown the operation to nearly 800 properties, including several Marriott International brands, along with other large hotel brands under the Hilton and InterContinental Hotels Group brands. Wiens explains: "With experience as a real estate broker, multi-property apartment manager and former homebuilder, I stumbled onto Residence Inn in its infancy." Residence Inn was sold to Brock Hotels, then to a joint venture between Holiday Inn and Residence Inn founder Jack DeBoer, before Marriott purchased the brand in 1987. Along with his cousin, Wiens opened the 16th Residence Inn in Overland Park, Kan., and has been involved with managing more than 50 of the brand's hotels. Today, the Residence Inn network consists of more than 735 locations in the U.S., Canada and Mexico.
Andrew Parker is IFA's Senior Manager of Publishing and Editor-in-Chief of Franchising World magazine. Find out more about franchise opportunities at Residence Inn by visiting www.franchise.org/residence-inn-by-marriott-franchise.