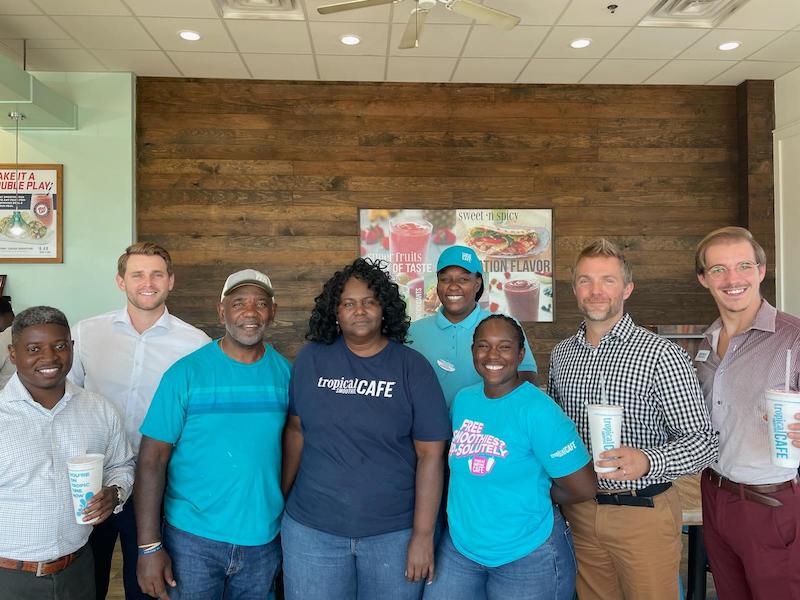 Hiring Our Nation's Finest
The main goal of VetFran is to match entrepreneurial Veterans and military spouses with opportunities to become franchise owners. Not only do we want to demonstrate our support of our nation's military community, but Veterans make ideal franchise owners. To hear from the mouths of franchisors and franchisees, look no further than our webinar recording about Hiring Our Heroes in the Workplace.
Clement Troutman, Tropical Smoothie Cafe
Clement Troutman is a great example of a Veteran turned successful franchise local business owner. "Coming out of the Navy I was used to systems. Franchising appealed to me because it had a system," he said.
"Troutman had many options when he was choosing his Maryland location, but he wanted to go somewhere where he could 'do the maximum amount of good.' Troutman shared how he has kept a successful, family-run, business while prioritizing giving back to his community. He believes that 'if you serve a need, you don't have to sell it.' Troutman's franchise quickly became one of the most successful in the nation. He had countless stories of regulars whose families he knows by name and whose lives have been impacted since the business came into the neighborhood."
Paul Gates, Wild Birds Unlimited
"The journey from service in the Army to becoming a franchise owner with Wild Birds Unlimited has been full of interesting twists and turns for Paul Gates. He credits much of his success to the military training that instilled in him a sense of discipline, loyalty, honed his leadership skills, and taught him the value of hard work." After leaving the military, Paul worked in IT, contracting for several government agencies. But he and his family decided they wanted something of his own, and when he bought his wife a bird feeder for Christmas, he found out the local store was for sale. Although the business was what enticed him originally , he was able to take advantage of the 15% off discount offered to Veterans through Wild Birds Unlimited program to begin his franchising journey. Now, the Gates have the seventh-fastest growing store in North America.
Paul credits much of his business success to the time he spent in the Army. "There are two big strengths I picked up from my time in the Army that have helped my business. First, especially working with satellite technology, I had to think on my own and problem solve. I'm the solutions guy! There's a lot of that in small business ownership! Plus, the leadership training I received in the Army has absolutely set me up for success while leading my team as a franchise owner."
Scott Hester, Mr. Transmission
Franchising runs in the family for Scott Hester. When he had his first child, he decided it was time for a lifestyle change and left the Navy. It is estimated that around 600,000 military families relocate each year and Scott was ready to set down roots. So, he began working for his father's Mr. Transmission shop based in Sandy Springs, GA. After learning the ropes, Scott opened his own store.
Scott values the ownership aspect and community built through franchising: "You own it, it's yours. You're not just coming to a job, it's like a second home." He values getting to know his customers and help make their days when they really need it. He says, "Once you're a customer, you're in the family," admiring how today he services the cars of children whose parents have been coming to his business since before they were born. And, just like he and his father, Scott's son Cameron has come on board.