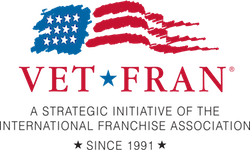 Press Release: IFA Applauds Reps. Claudia Tenney and Julia Brownley for Championing Veteran Entrepreneurs Act
Franchise businesses create a wealth of opportunity for veterans who want to open a business.
(Washington, D.C.) [November 8, 2017] – Congresswoman Claudia Tenney (NY-22) and Congresswoman Julia Brownley (CA-26) joined military veteran business owners today at a small business roundtable hosted by the International Franchise Association (IFA). At the roundtable, the Congresswomen announced their plan to introduce the Veteran Entrepreneurs Act of 2017.
"The franchise model has made owning a small business a feasible option for thousands of veterans," said IFA President and CEO Robert Cresanti. "Of the 733,000 franchises across the country, 14 percent are veteran-owned. IFA is enthusiastic about growing this number and the Veteran Entrepreneurs Act will help to achieve this goal. We'd also like to thank Congresswoman Tenney and Congresswoman Brownley for their leadership and commitment to those who have bravely served our nation."
The Veteran Entrepreneurs Act of 2017 would reduce the barriers of starting a business for veterans by creating a tax credit of up to 25 percent of initial fees for veteran franchisees. Additionally, the bill encourages franchisors to provide discounted start up fees for veterans in exchange for a tax credit. Lower franchise fees mean more veterans can become entrepreneurs with less capital up-front.
"With thousands of veterans transitioning out of the military annually, this bill will ease their transition to the private sector by empowering veterans to use their unique skills and expertise to open a new small business. When our veterans come home from selflessly serving our nation, they should be afforded every opportunity to use these skills to positively contribute to our local communities," said Congresswoman Claudia Tenney. "I'm honored to work across the aisle with my colleague Representative Brownley to help ensure our veterans have the opportunity to achieve the American Dream of owning a small business."
Congresswoman Julie Brownley and Congresswoman Claudia Tenney have pledged to sponsor the Veteran Entrepreneurs Act of 2017.
"Veterans have served our country with honor and distinction, and it is our duty to ensure that they can thrive in a good job once they've transitioned back to civilian life," said Congresswoman Julia Brownley. "For many former service members, that means running their own small business. I am proud to co-author bipartisan legislation with Congresswoman Tenney to make it easier for veterans to open their own businesses so they can have a better opportunity to support themselves and their families."
As tens of thousands of service men and women return from overseas deployments, expanded opportunities are needed to ensure veterans and their families can transition into the civilian economy. The franchise business model provides comprehensive training opportunities, scalability, and the need for operational execution and excellence, offering an ideal career path to enable veterans to become productive participants in the U.S. economy.
In 1991 IFA founded VetFran®, a program to support veterans and their spouses' ability to access franchise opportunities through education on the franchise industry, financial assistance, and industry mentorship. To date, over 650 franchise brands voluntarily offer financial discounts, mentorship, and training for aspiring veteran franchisees and veterans seeking employment. For more information, click here.
###
About the International Franchise Association
Celebrating 56 years of excellence, education and advocacy, the International Franchise Association is the world's oldest and largest organization representing franchising worldwide. IFA works through its government relations and public policy, media relations and educational programs to protect, enhance and promote franchising and the more than 733,000 franchise establishments that support nearly 7.6 million direct jobs, $674.3 billion of economic output for the U.S. economy and 2.5 percent of the Gross Domestic Product (GDP). IFA members include franchise companies in over 300 different business format categories, individual franchisees and companies that support the industry in marketing, law, technology and business development.