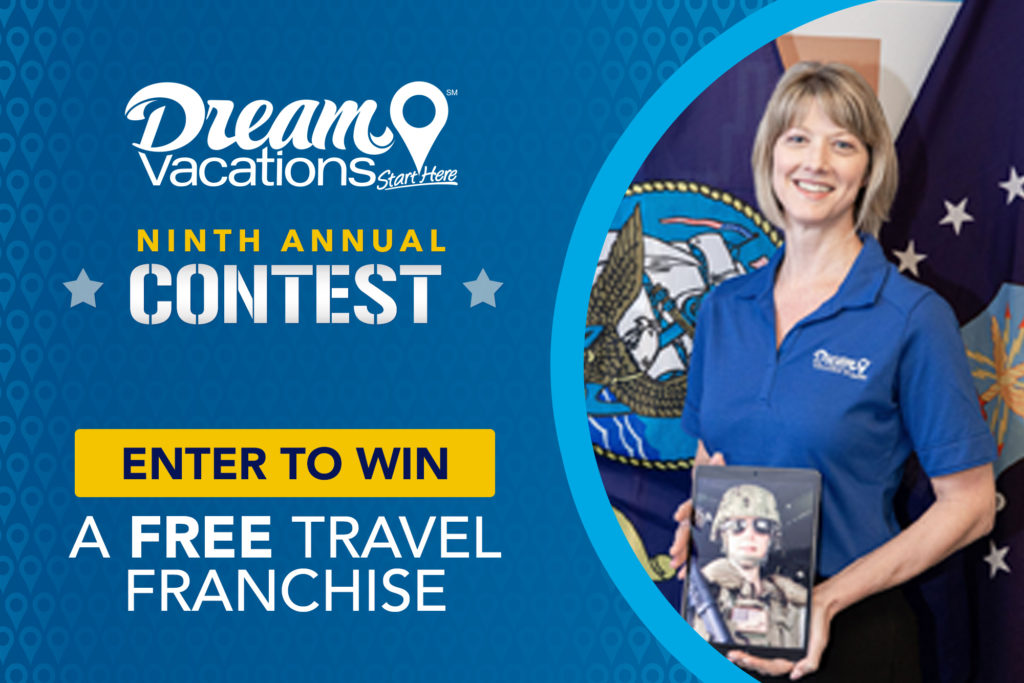 Military Veterans and Community Heroes Can Enter-to-Win Free Work-From-Home Travel Agency Franchise from Dream Vacations this Military Appreciation Month
Ninth annual Operation Vetrepreneur contest begins Monday, May 25, 2020, and runs through July 31, 2020
The following press release is partner content from VetFran 5 Star Member and Bronze Sponsor, Dream Vacations.
Fort Lauderdale, Fla. (May 21, 2020) – This Military Appreciation Month, the number one franchise for veterans Dream Vacations announces that military veterans can enter-to-win a free travel agency franchise as part of the award-winning Operation Vetrepreneur business plan contest. Since 2012, Dream Vacations has awarded 42 free franchises valued at $533,400 to military veterans, and in recognition of the contest's ninth anniversary this year and to pay tribute to the community heroes who have been on the frontlines of the COVID-19 pandemic, in 2020 Operation Vetrepreneur is being expanded to award nine total military veterans and community heroes with a free franchise as well. The contest begins on Monday, May 25, 2020, and runs through July 31, 2020.
"Military veterans have been and always will be American heroes, but this year we have entered a new type of war with different heroes fighting the battle – first responders and healthcare workers," said Debbie Fiorino, chief operating officer of Dream Vacations. "People are longing for a sense of community, are dreaming about their future and many are looking for their next career opportunity, and we provide that at Dream Vacations. This contest is just one way we express gratitude to those who are making the ultimate sacrifice to protect the American people."
The Dream Vacations franchise contest is open to former members of any of the five branches of the U.S. military (Army, Air Force, Navy, Marine Corps and Coast Guard) who are retired, off active duty and/or honorably discharged prior to the contest start date, as well as community heroes such as first responders, educators and medical professionals who are residents of the U.S. To participate, candidates must complete an online entry form and an introductory phone interview with a franchise development manager. Candidates will be required to submit a candidate profile, business plan, and video. Finalists will be invited to participate in follow-up phone interviews before winners are selected. The entry form and all contest details can be found at www.OperationVetrepreneur.com.
Nine winners will be notified in August 2020. Each grand prize is valued at $11,600 and includes a complimentary Dream Vacations franchise with a waived $9,800 initial start-up fee and monthly service fees. After completing virtual franchisee training, the winners will be armed with all the tools and knowledge they need to begin their dream business creating dream vacations.
"I felt very honored to be named a winner in the 2019 Operation Veterepreneur contest, said Tawnya Caldwell, Navy veteran from Hermitage, Tenn. "It has opened so many doors for me to strive for financial freedom while doing something I absolutely love – travel. The Dream Vacations team really feels like a family and they are always watching out for us to help us achieve success."
For military veterans, Gold Star families and community heroes interested in starting a work-from-home business immediately, they can purchase a Dream Vacations travel agency business now at a 30 percent discount, and receive an enlistment package and ongoing support. They can select one of three perks currently being offered — earn nearly $5,000 back based on initial fee through the Earn Back promotion; waived administrative fees valued at $1,350; or a Microsoft® Surface Pro tablet valued at $1,000. They also receive a waived training fee for a business partner; the ability to hire active-duty military spouses and veterans as associates at a discount; the flexibility to move residences and stay in business; veteran networking opportunities; and access to a Command Center which serves as the hub for everything military-related from discounts, reward programs and marketing assets to educational tools, special dates that should be observed to honor the military, and valuable information to assist those who have and are serving in the U.S. Armed Forces.
As the only travel franchise to receive a 5 STAR ranking from the International Franchise Association's VetFran initiative, Dream Vacations proudly supports military veterans and is consistently recognized by leading industry publications as a veteran-friendly franchise. Other national accolades include number one rankings by Military Times, Entrepreneur and Forbes. Additional recognitions include inclusion on G.I. Jobs annual "Hot Franchises for Veterans," US Veterans magazine's "Top Veteran-Friendly Companies" and USA Today's "50 Top Franchises for Military Veterans."
Military veterans and community heroes who have a passion for travel and entrepreneurism who are interested in opening a Dream Vacations travel franchise and want to be considered as a candidate for Operation Vetrepreneur, please visit www.OperationVetrepreneur.com or call 888-249-8235.
About Dream Vacations
Travel agents with the top-ranked home-based travel agency franchise Dream Vacations have the resources to plan and create seamless vacation experiences for their customers while offering the best value. A member of the International Franchise Association, Dream Vacations is part of World Travel Holdings and has received partner of the year, a top-ranking status, by all the major cruise lines as well as national recognition for its support of military veterans. For more information about Dream Vacations, visit www.DreamVacationsFranchise.com. Like Dream Vacations on Facebook at www.facebook.com/DreamVacationsFranchise, follow on Twitter at @Dream_Franchise and watch its videos at http://www.youtube.com/DreamVacationsBusiness.
Begins May 25, 2020 at 12:01 a.m. ET and ends July 31, 2020 at 11:59 p.m. ET. Void where prohibited by law. Must be 18 or older at the start of the Contest, have a computer and internet connection, be a legal resident of the US or DC and a former member in good standing of one of the five branches of the U.S. military who is retired, off active duty and/or was honorably discharged prior to the start date of the Contest or is currently employed as a U.S. First Responder, Educator or Medical Professional. If selected as winners, Contestants must commit to a 5-year Dream Vacations home-based franchise, which requires attendance at a New Franchisee Training Class and a starting investment capital (for more information, go to www.dreamvacationsfranchise.com or call 888-441-2542). Only one (1) submission per contestant. To enter, complete the online entry form on our website (www.operationvetrepreneur.com). If qualified and selected to move to the next round after a phone interview, Semi-Finalists must submit a résumé, video, Dream Vacations candidate profile, video and a minimum 300 – 1,200-word business plan. Submissions must comply with the Submission Guidelines in the Official Rules. Only complete, valid submissions will be accepted. Sponsored by Dream Vacations, 1201 W. Cypress Creek Rd. Ste. 100, Fort Lauderdale, FL 33309. See [www.OperationVetrepreneur.com] for complete Rules and details.
###
Media Contact:
Rachel Shapiro, Public Relations Manager
Dream Vacations
954-958-3664