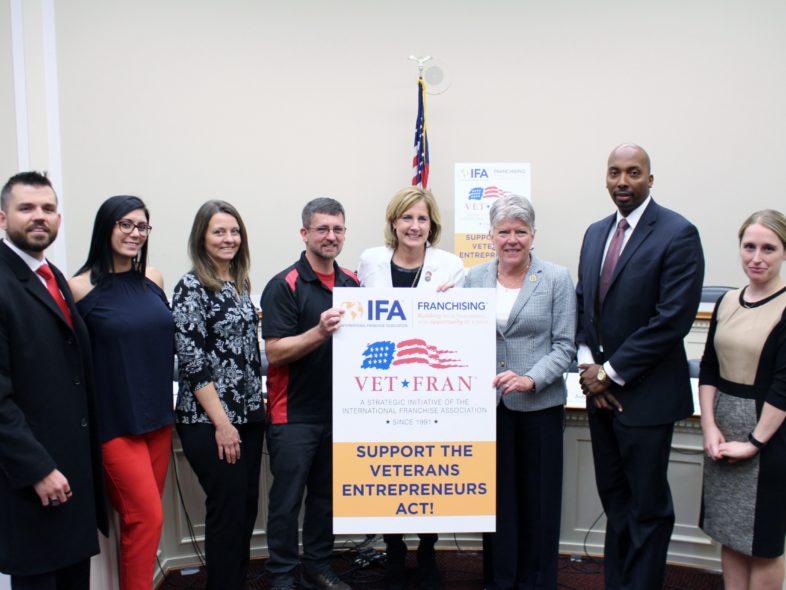 Members of Congress and the IFA Unveil the Veteran Entrepreneurs Act OF 2017
On November 9, the IFA hosted a roundtable discussion on Capitol Hill, announcing the bipartisan Veteran Entrepreneur's Act of 2017. Congresswomen Tenney (NY-22) and Congresswoman Brownley (CA-26) were joined by IFA's President and CEO Robert Cresanti along with veteran franchise owners. Discussion centered around the stories of the veterans and their business endeavors, especially how the bill could help other veterans enter the workforce and reach their level of entrepreneurial success.
IFA CEO and President Robert Cresanti delivered opening remarks about the bill and franchise business opportunities available to veterans in the United States. Congresswoman Brownley then spoke about her experience with aiding veterans – including her tenure on the House Committee on Veteran's Affairs and her longstanding work with Naval Base Ventura County in her Congressional district. Congresswoman Tenney conversed about her son's service in the military and how it influenced her to sponsor this legislation. Veterans Danny Farrar, Albert Daniel, and John Stringfield discussed their business careers – both the struggles of transitioning to civilian life and then later creating successful businesses through the franchise model. There was a consensus among participants that a bill like the Veteran Entrepreneur's Act of 2017 would have given them ample starting cash flow and a better chance to succeed in the initial crossover to civilian life. Access to capital was one of the main obstacles that all three franchise owners had encountered, and this bill seeks to give veterans a pathway to defray the initial franchise startup costs.
As thousands of veterans transition from their military service, civilian reintegration is a national priority. The Veteran Entrepreneur's Act of 2017 would amend the tax code to allow qualifying veterans access to tax credits to establish franchises. Many veterans have years of supply chain experience and skills necessary to run a small business or franchise but lack the necessary capital to start. The bipartisan Veteran Entrepreneurs Act of 2017 would create a tax credit of up to 25% of initial franchise fees for veteran franchisees. It is available on up to $400,000 of qualified franchise fees and the unused portion of the tax credit can be carried forward for 5 years, ensuring that veteran business owners utilize the full tax credit. With initial bipartisan support, Congresswoman Tenney, Congresswoman Brownley, veterans, and business owners are optimistic that this commonsense legislation will pass and become law giving our veterans a shot at the American Dream.