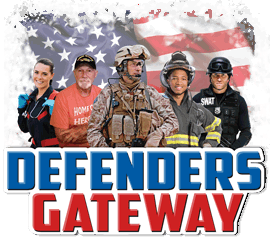 IFA Foundation's VetFran Program Partners With Defenders Gateway
FOR IMMEDIATE RELEASE
Contact:
Jenna Weisbord, 310-995-0839
jweisbord@franchise.org
@franchising411
IFA Foundation's VetFran Program Partners with Defenders Gateway
WASHINGTON, July 19 – The IFA Foundation announces the start of a new partnership with Defenders Gateway, a company launching an app that will honor members of the military, first responders and families of the fallen.
Defenders Gateway is a company committed to developing the largest national network of businesses and organizations that recognize and honor the sacrifice of our nation's Defenders by extending discounts on their products, services and opportunities. Using a proprietary app, Defenders will be verified and can then search for businesses near them that offer them a discount. The app gives added visibility to businesses that choose to honor Defenders and serves Defenders by making sure they never miss out on redeeming discounts they are entitled to.
The VetFran program has secured exclusive discounted rates for VetFran member companies and their franchisees to join this network, making it easier to gain visibility in the veteran's community. "Too many veterans miss out on these discounts by either not knowing about them or not knowing how to claim them, and Defenders Gateway hopes to bring together Defenders and those who honor them on a single platform," said Carol Watanabe, CEO of Defenders Gateway.
VetFran member company locations that sign up by December 31st using the code "VetFran 2018" will receive the exclusive rate of $100 per location for 12 months. To read more about the benefits available to VetFran member locations, click here. "Franchising has always been a champion of veterans, be it as franchisees, employees or customers. Making it easier for our members to do right by veterans and keeping them informed of new platforms and opportunities is a part of our mission," added Jeff Bevis, Chairman of the VetFran Committee.
###
About the IFA Foundation
Founded in 1983, the International Franchise Association (IFA) Foundation is a 501(c)(3) tax-exempt organization and supported through the generous contributions of IFA members and others. The Foundation's mission is to advance franchising and the free enterprise system by increasing the knowledge and professional standards of all members of the franchising community; educating the next generation of franchise practitioners; increasing recognition of franchising's key role in the free enterprise system; and providing comprehensive information and research about important developments and trends in franchising.
About the International Franchise Association
Celebrating 56 years of excellence, education and advocacy, the International Franchise Association is the world's oldest and largest organization representing franchising worldwide. IFA works through its government relations and public policy, media relations and educational programs to protect, enhance and promote franchising and the more than 733,000 franchise establishments that support nearly 7.6 million direct jobs, $674.3 billion of economic output for the U.S. economy and 2.5 percent of the Gross Domestic Product (GDP). IFA members include franchise companies in over 300 different business format categories, individual franchisees and companies that support the industry in marketing, law, technology and business development.