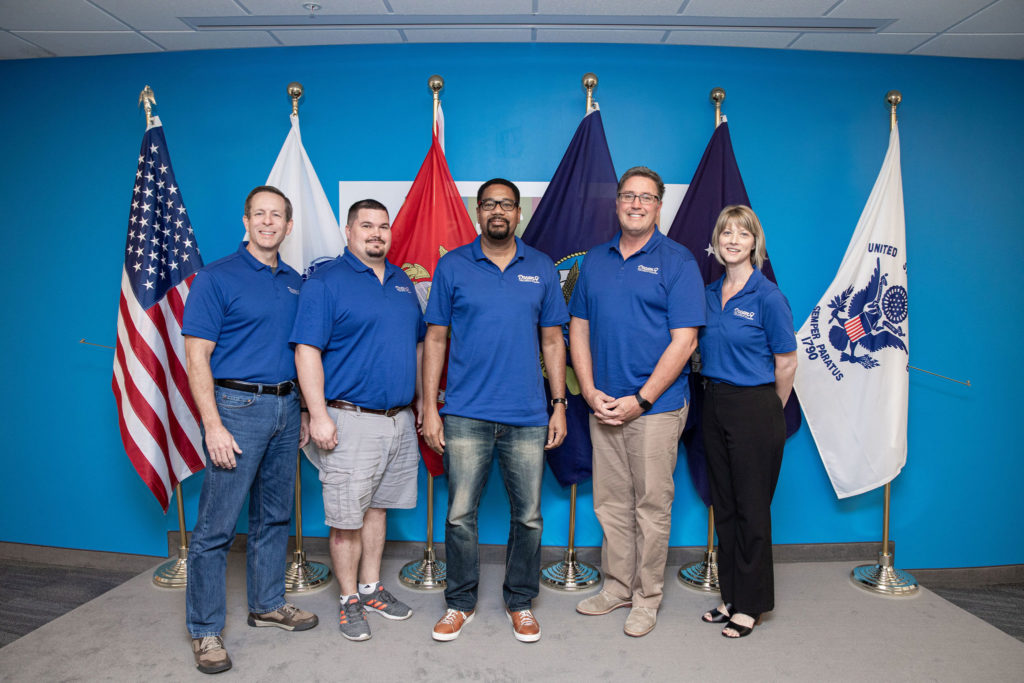 Five Military Veterans Win Free Dream Vacations Travel Agency Franchise
This press release was originally shared by Dream Vacations at https://www.dreamvacationsfranchise.com/.
Fort Lauderdale, Fla. (November 21, 2019) – As part of a weeklong Veteran's Day celebration, the number one franchise for veterans Dream Vacations awarded five military heroes with free travel franchises as part of its award-winning 8th annual contest "Operation Vetrepreneur: Become Your Own General." Currently nearly 35 percent of franchise owners within Dream Vacations are military veterans and in the past eight years, the travel agency franchise has awarded 42 free franchises valued at more than $533,400 to deserving military veterans.
"Military veterans have made so many sacrifices so we can be the land of the free, making the American Dream a possibility, and Operation Vetrepreneur is just one way we are able to give back to these heroes," said Drew Daly, senior vice president and general manager of Dream Vacations. "Every year our winners raise the bar in their business plans and I am excited for Dream Vacations to join them on this journey to successful business ownership."
The annual "Operation Vetrepreneur: Become Your Own General" contest was open to former members of any of the five branches of the U.S. military (Army, Navy, Air Force, Marine Corps and Coast Guard) who are retired, off active duty and/or honorably discharged prior to the contest start date this past May. Candidates participated in a rigorous three-part application process which included creating a business plan, video essay and phone interviews. More than 2,400 people have applied for franchise ownership through Operation Vetrepreneur since 2012. This year's winners are Marine Corps Veteran David Alexander of West Orange, N.J.; Navy Veteran Tawnya Caldwell of Hermitage, Tenn.; Army Veteran Michael Foster of Port St. Lucie, Fla.; Army Veteran Don Shirley of Cedar Park, Texas; and Air Force Veteran Jimmy Weeks of Costa Mesa, Calif.
"I'm proud of my service in the United States Marine Corp Infantry. It taught me discipline, determination, how to work hard and strive for perfection — all traits that I'll apply to running a travel franchise," said Vetrepreneur winner Alexander. "I've always had a passion for traveling and meeting new people. I love experiencing new adventures and learning about different cultures. I have a natural curiosity that traveling always seems to satisfy."
All military veterans and Gold Star families who purchase a Dream Vacations travel agency business receive an enlistment package valued at no less than $5,000 and ongoing support. They can select one of four perks currently being offered — $2,000 travel training credit; receive up to $7,000 back based on initial fee through the Earn Back promotion; waived administrative fees valued at $1,350; or a Microsoft® Surface Pro tablet valued at $1,000. In addition to having access to the Command Center, an internal portal with veteran-specific training and veteran-themed marketing assets, all veterans and Gold Star families receive a waived training fee for a business partner and the ability to hire active-duty military spouses and veterans as associates at a discount. Additional veteran incentives include the ability to move residences and stay in business, travel discounts for military customers and access to veteran networking groups.
As the only travel franchise to receive a 5 STAR ranking from VetFran, Dream Vacations proudly supports military veterans and is consistently recognized by leading industry publications as a veteran-friendly franchise. It was ranked the #1 franchise for veterans by Entrepreneur magazine in 2019, and other recent number one rankings include Military Times and Forbes. Additional recognitions include inclusion on G.I. Jobs annual "Hot Franchises for Veterans," US Veterans magazine's "Top Veteran-Friendly Companies", USA Today's "50 Top Franchises for Military Veterans" and recognition by MSC Cruises in its Seaside Salute Award. The Operation Vetrepreneur program won gold from the Travel Weekly Magellan Awards and the IFA Franchising Gives Back Awards.
Dream Vacations is committed to being "Rich in Diversity" and empowers all owners, franchisees and employees to reach their highest potential by leveraging their broad range of talent, experiences, personalities, viewpoints and ideas to generate business growth.
Military veterans who are passionate about travel with an entrepreneurial spirit who would like to be part of a travel agency network that cares more about its agents, travelers and military veterans, should visit www.DreamVacationsFranchise.com or call 888-249-8235 to learn about franchising with Dream Vacations.
Photo Cutline (Left to Right): Army Veteran Don Shirley, Army Veteran Michael Foster, Marine Corps Veteran David Alexander, Air Force Veteran Jimmy Weeks and Navy Veteran Tawnya Caldwell. Photo Credit: www.TheLXA.com
About Dream Vacations
Travel agents with the top-ranked home-based travel agency franchise Dream Vacations have the resources to plan and create seamless vacation experiences for their customers while offering the best value. A member of the International Franchise Association, Dream Vacations is part of World Travel Holdings and has received partner of the year, a top-ranking status, by all the major cruise lines as well as national recognition for its support of military veterans. For more information about Dream Vacations, visit www.DreamVacationsFranchise.com. Like Dream Vacations on Facebook at www.facebook.com/DreamVacationsFranchise, follow on Twitter at @Dream_Franchise and watch its videos at http://www.youtube.com/DreamVacationsBusiness.