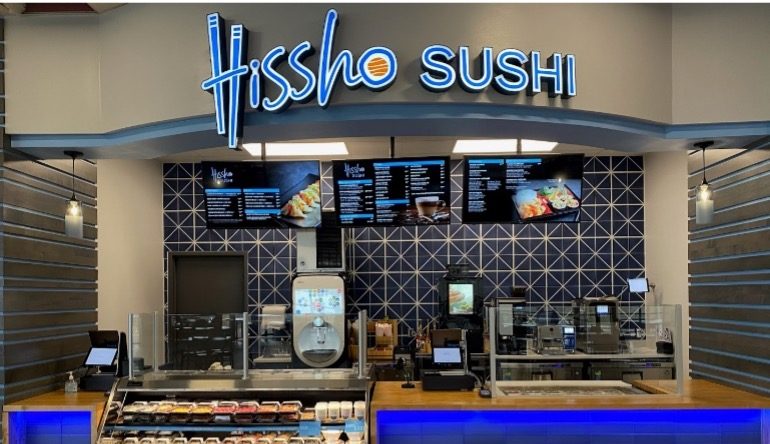 Enlist in Your Future: Franchising at Hissho Sushi
We know that the reasons behind your conscious decision to serve your country were different for each of you. We understand that no one will ever be able to comprehend all the sacrifices that were made to honor that commitment. As soldiers, sailors, airmen, Coast Guardsmen and Marines, you do have one thing in common and that is the "on base" experience. As you reflect on the time spent on base, I imagine there are some memories that bring a smile to your face and others, that, well you might prefer to forget. This experience has changed, over time with possibly no bigger change coming in the types of food offerings available. What was once a more centralized, cafeteria style approach, over time, migrated initially to the availability of several mainstream fast-food options to what is evolving now into a request for more diverse, higher quality, sometimes healthier alternatives with the ability for customization.
This new generation is willing to forego owning a home, or a car but will invest heavily on experiences, none more prevalent than dining out. They are willing to pay a premium for higher quality ingredients, especially ingredients that are environmentally conscious and responsibly sourced. This is also a group that has grown up on "convenience" as when they want something, they want it now with limited barriers to obtain it and again will pay for it. If you look at the amount of money these individuals are paying in delivery fees from companies like Door Dash or Grub Hub it is significant. The military is aware of all these shifts and is looking at this as one way to improve the lives of those who serve, and it is gaining momentum. They are looking to align with the right company that can deliver a great dining experience with offerings like fresh sushi, gourmet burgers and artisan baked pizza. They are looking to provide these hard-working men and women a 30-minute vacation so that they can recharge both nutritionally and emotionally. I believe you understand how important this is because you have walked in their boots and know what is important to them on a daily basis.
Our past success with the military with our "doing what we say we are going to do" approach has afforded us a unique opportunity. We find ourselves with several upcoming franchise opportunities on bases around the country with concepts like Hissho Sushi, Bobby's Burgers by Bobby Flay, Mosaic Pizza Company and Aquila Black Coffee. If you have been thinking about getting into business for yourself but want a support structure around you, so that you are not by yourself then this may be of interest. We believe that with the captured audiences on base, the enhanced unit level economics of these locations and your keen ability to connect on multiple levels with the guests this could become a very special opportunity both personally and professionally.
In recognition and honor of the service veterans have devoted their lives to, we offer the following benefits to veterans interested in starting a business:
50% discount on franchise fees
Potential royalty discount during ramp up
In-depth training programs
On-going operational and marketing support
"Ready to own" venues with a captured audience
3rd party financing options
10-year sublease terms
If you're interested in taking the first step, please visit https://www.hisshosushibeer.bar/ to learn more.