WHY VETERANS ARE CHOOSING FRANCHISING
Franchise ownership means leading a team again, it means executing a blueprint for success, and it means a purpose and mission-driven career.
WHY FRANCHISORS NEED VETS
Franchisors find veterans outperforming and excelling at the leadership and tenacity required to run a small business, and they're looking for more of the same.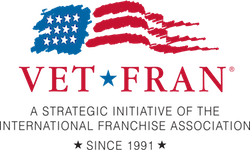 Franchise businesses create a wealth of opportunity for veterans who want to open a business. (Washington, D.C.) [November 8, 2017] – Congresswoman Claudia Tenney (NY-22) and Congresswoman Julia Brownley (CA-26) joined military veteran business owners today at a small business roundtable hosted by the International Franchise Association (IFA). At the roundtable,…
Read More
FIND A VET-OWNED BUSINESS NEAR YOU
Note: We have temporarily suspended posting in-person events due to COVID-19.